This week – just squeezing in before the new restrictions! – I found myself back in the classroom.
It's been a while. The Open University took an institution-wide decision to move everything online right at the start of the pandemic, and our work as tutors has stayed online ever since. That wasn't particularly troublesome, since a couple of years before that the entire Associate Lecturer workforce had been required to train in online teaching, and we'd all been made (against quite a lot of objections!) to take our turns running online sessions. So we knew what we were doing, we'd done it before, the systems were set up to support us, and all we had to do was reschedule the face-to-face classes to run online.
It wasn't quite that simple, of course – nothing ever is. But compared to most universities we've had a fairly settled and secure time, and we haven't even tried to shift back to in-person working yet. Student numbers are up, jobs seem stable for now, and we're all getting along fine, in a business-as-usual sort of way. A few years ago I completed an MA in Online and Distance Education with the OU, and it's been absolutely fascinating to see how the developments of the last two years fit into the theories and frameworks that I learned about – like a giant research experiment.
However, everyone I talk to is missing face-to-face teaching terribly. There's always been a lot of controversy around face-to-face tutorials: are they cost effective, are they accessible, are they reaching the right people? But there's never been any doubt – at least among tutors – that they're valuable. And one of the very best bits of my job is the chance to meet people who come from all sorts of backgrounds and circumstances to study Classics.
So this week, when I had a chance to teach in person again, I jumped at it. It was slightly different to what I'm used to, though, since my classes were made up of nine- and ten-year-olds.
I used to do a lot of school teaching – both paid and voluntary – at all levels, from Reception right through to A Level. One of my favourite jobs was a couple of months covering someone's maternity leave at a private primary school, as a part-time Classics teacher (I spent the whole time telling stories and making monsters out of clay – what's not to like?!) about 15 years ago. But in recent years I haven't had the time – and then of course the pandemic made school visitors much less welcome.
This week, though, I was invited into my son's state primary school in South Shields to teach a couple of classes to the Year 5 kids who are studying the Ancient Greeks in History.
I thought I might teach the Greek alphabet – because, let's face it, the Greek alphabet is more topical right now, in our weird pandemic existence, than it's been in a very long time! So I was scouting around the internet looking at fun things to do with the alphabet (there weren't a lot of online resources back when I was last teaching Greek to kids, so it's a whole new world), when I stumbled across Basil.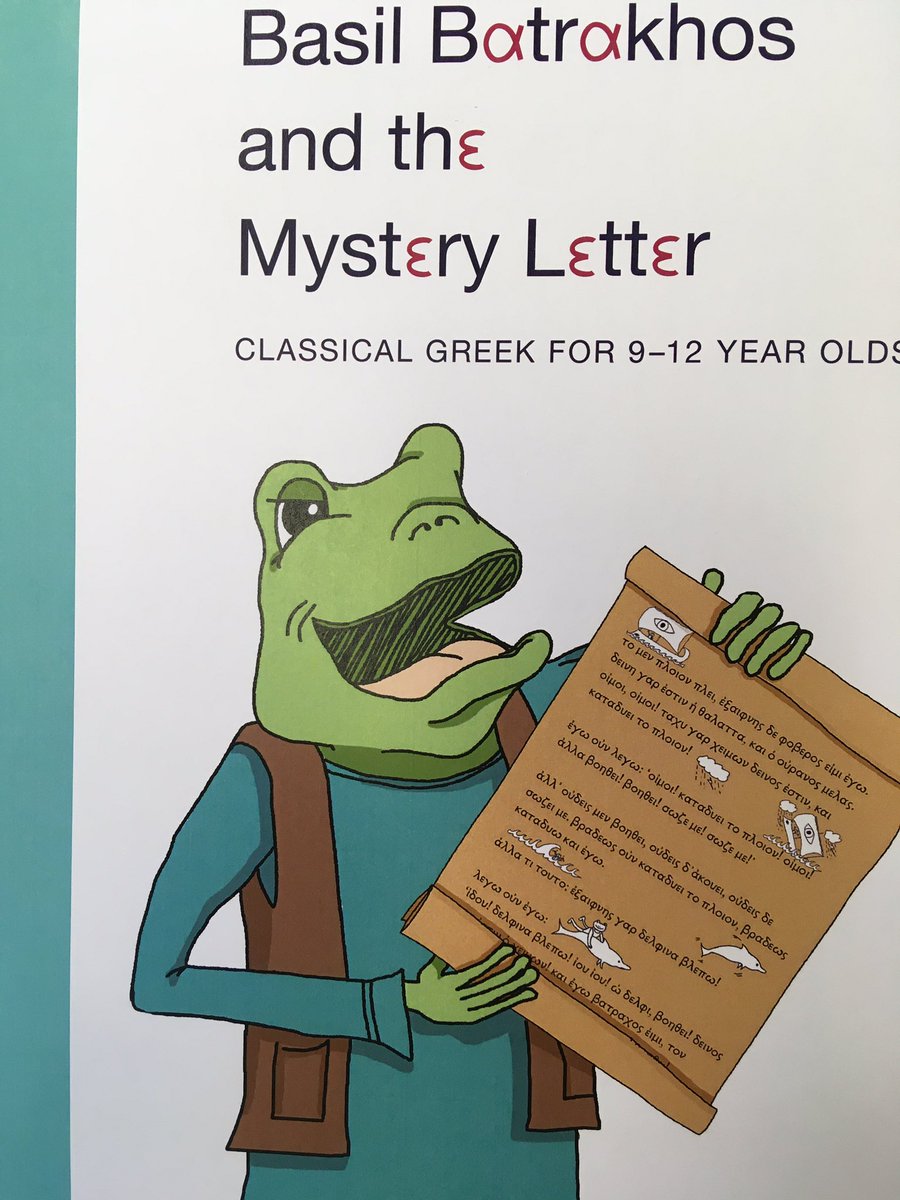 I'd heard of this book when it first came out, but since I wasn't teaching kids at the time I didn't really look into it, and had forgotten all about it. So when I stumbled across it recently I was surprised to realise that there was a local connection – the illustrator is a South Shields artist! Classics is a very small world, but that's a particularly odd coincidence. Obviously I had to use the book, once I found that out. It was a Sign.
If you're interested, you can download the whole book for free here, thanks to Classics For All. It's a great thing to do with kids, even just for fun, because it's presented as a mystery to solve, and involves picking up Greek letters and words in easy stages, with lots of stories to break up the language stuff. The website has plenty of helpful material, but the book itself is pretty self-explanatory. What I like most is that it presents readers with the challenge – a whole letter written in ancient Greek – at the start, then takes them through stages in figuring it out. It was interesting to see how that initial challenge fired up the kids and gave them a goal.
One of the really amazing things about Classics For All is that, if you're working in a school, you can apply for free books. So I did, and the school was sent a little pile of Basil Batrakhos paper copies to keep. I didn't have time to go through the book properly in the short time that I was in school, but quite a few of the kids were keen on learning more, and it was great to be able to leave the books with them in their school library for later self-study.
I'd forgotten how much fun it is to talk Classics with kids who are engaged and enthusiastic. As usual, I drifted into storytelling – it's pretty irresistible, when you find that children haven't heard any of your favourite stories! But mostly they loved the idea of decoding words in a new alphabet – 'like learning English all over again'. For a lot of the children in my son's school English isn't their first language, so they're incredibly quick to pick things up, and it's brilliant to watch.
So, much fun was had – maybe by the kids, but definitely by me! I miss real-world teaching. Granted, I'm an autistic semi-hermit who exists quite comfortably behind a screen with my camera turned off – but every so often it's lovely to be in the same space as actual people!
Interesting things this week
Here's a great new video on 'Stealth Classics' made by the team at Communicator Ltd, featuring some wonderful Classics teachers, as well as teachers of other subjects:
They've also recently produced a Primary Latin video which does a great job of summing up the benefits of bringing Classics to primary school kids (and which features some very cute kids!):
If you haven't already checked it out, let me draw your attention to the new, free OpenLearn course 'Getting started on ancient Greek', produced by my brilliant colleagues at The Open University. It's a great place to start if you don't have any Greek and would like to learn some basics.
Next week there's a free online conference in Antiquity in Media Studies which looks like a lot of fun and has some really great speakers. Here's the form to book a place. Note that times are EST.
And finally… the Classical Association is running a writing competition, open to kids and grown-ups, with signed books and money prizes and the chance to have your story read by Stephen Fry!