I've actually had a week off work this week. It's been really quite nice.
I didn't get to do anything exciting, of course – beyond a walk to the shoe shop for an emergency school-shoes purchase (which these days does actually border on exciting). But I've had a chance to rest up a bit, and do some drawing, and spend some time out and about with my son, and write a couple of things that I've been meaning to get to for a while, and answer a few personal emails – that kind of thing. I don't know where the week's gone, to be honest!
I've also been messing around with some of the old books in my collection, and posting some of my research on Twitter – mainly because my son's had enough of me telling him about marbled endpapers and interesting fold-out maps. Here are some of the threads I've been doing, if you want a little window into my obsessions!
Monday
#OldBookThreadOfTheDay, as promised! This is one of my favourites, and is responsible for my interest in Neo-Latin literature. It's the Delitiae Poetarum Scotorum huius aevi illustrium, or 'Treasures of distinguished Scottish Poets of this age', published in Amsterdam in 1637.
It was the largest collection of Scottish neo-Latin poetry ever published, including both famous poems and new ones. Some are fascinating, while others… well, the word 'delitiae' does some heavy lifting! It came in two volumes, running to over 1,200 pages and including 37 poets.
My book is Volume 2: except it isn't! Somebody messed up, back in 1637, and confused the Poemata of one poet with another; so my book ended up as half Volume 2 and half Volume 1! So it may be unique. It's definitely irritating!
Most of the DPS is still untranslated. However, a project at Glasgow from 2012 to 2015 translated some, and digitised the whole thing, so the Latin can be read online. Someday, when I have time (*sigh*) I have a list of poems I want to translate!
Originally tweeted by Dr Cora Beth Fraser (@drcorabeth) on April 12, 2021.
Tuesday
Another #OldBookThreadOfTheDay! This is another one of my favourite books: a pocket-sized Tacitus printed by Elzevir in 1640. It's cute, and old, and Tacitus, so of course I like it – but it also has a few interesting quirks!
For a start, this wouldn't have been its original form. In fact, back in 1640 this was published as two volumes. At some later date the books must have fallen apart, and they were expertly rebound in vellum as one volume – even maintaining the fabulous fold-out family tree!
As a result, this volume has EVERYTHING: all the works of Tacitus, plus emendations, an index, a list of consuls and extras including all the mentions of Tacitus in ancient literature. It's a one-stop-shop for Tacitus!
The illustrations include a portrait which doesn't do Livia any favours, and the Elzevir Hermit, a man alone by a tree and vine, with the motto 'Non Solus'. This is still used by Elsevier, although the meaning is up for debate!
https://www.elsevier.com/connect/library-connect/what-does-non-solus-mean-in-elseviers-logo
Originally tweeted by Dr Cora Beth Fraser (@drcorabeth) on April 13, 2021.
Wednesday
In today's #OldBookThreadOfTheDay I'd like to invite you to join me in going down a rabbit hole! I bought this little book years ago from a market stall for a few pounds. It's a volume of Quintus Curtius' History of Alexander, printed in 1746, and it's had an interesting life…
The book itself isn't particularly rare or valuable, but it's pretty, with marbled endpapers, gilt pages, a silk page-marker and lovely clear print despite its small size. But my rabbit-hole relates to a hand-written inscription, because I'm always fascinated by previous owners..
It seems that this was given to Elinor by her Uncle Sam in 1848. But who was Elinor, and who was Uncle Sam? Luckily Elinor was a Bonham Carter, and the Bonham Carter family is not difficult to investigate!
Elinor Mary was born in 1837 (the baby of the family: her oldest brother was 20 years older!); so Uncle Sam gave this to her when she was 11. Was a 100-year-old Latin book about Alexander the Worst Present Ever? Or did she request it? The interesting thing about Uncle Sam…
…is that he was also the uncle of Florence Nightingale, who studied classical literature from an early age (as did her sister Parthenope). She was 17 years older than Elinor, so Uncle Sam knew a bit about having educated nieces. In 1848, the year in the inscription…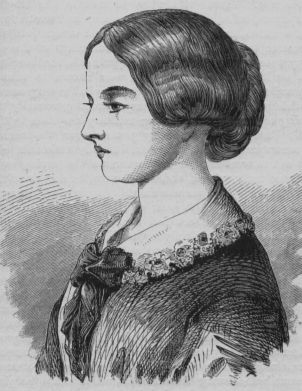 Elinor's older brother Jack got married, and Florence and Parthenope were bridesmaids. A few months later, Florence went off to Greece for a trip. Maybe Uncle Sam's book purchase was inspired by this! Another niece…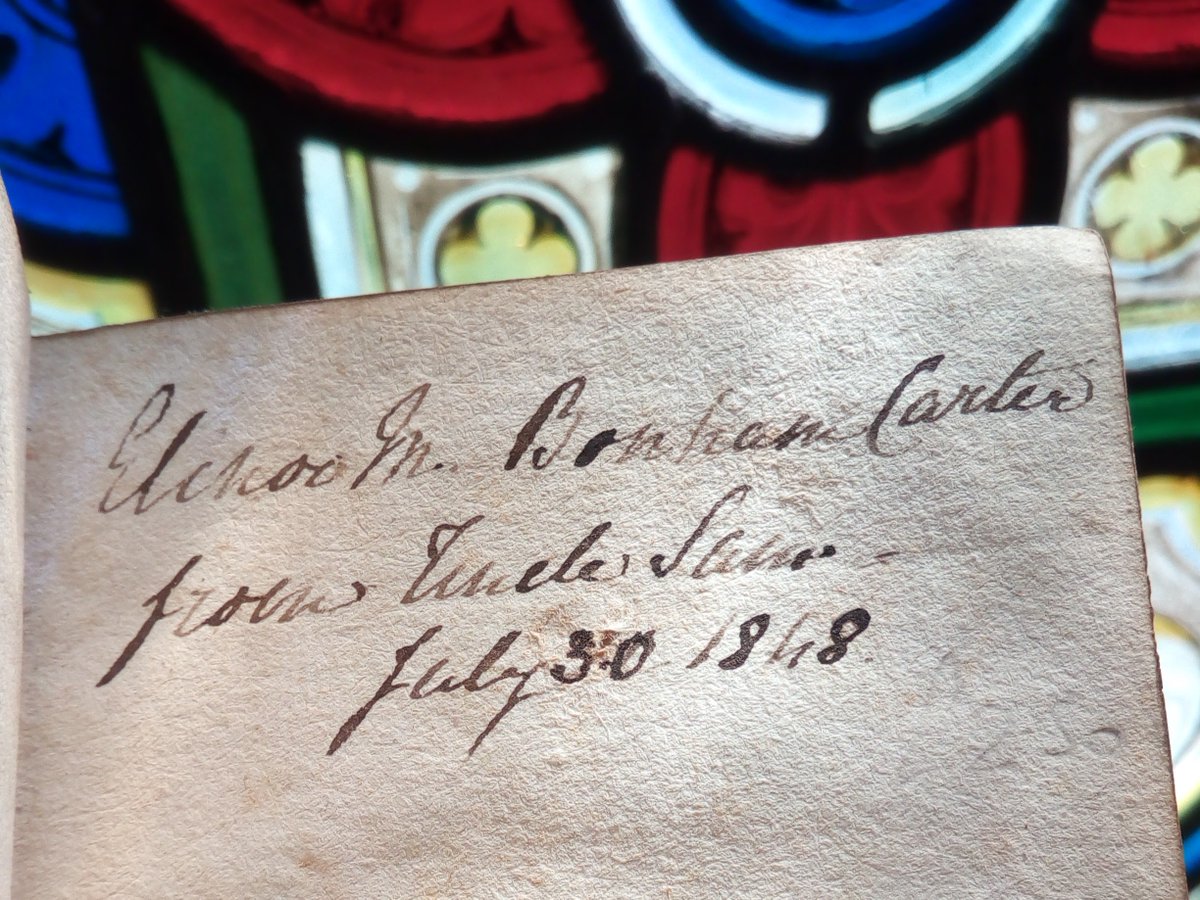 …was Barbara Bodichon, 10 years older than Elinor, who became a leading women's rights activist, artist and founder of Girton College Cambridge, publishing 'A Brief Summary, in Plain Language, of the Most Important Laws concerning Women' in 1854. Uncle Sam had impressive nieces!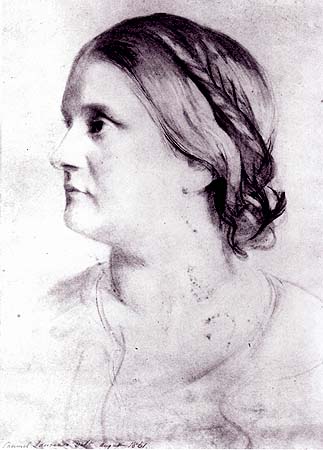 But what of Elinor? Well, she married jurist Albert Venn Dicey in 1872. Albert had quite a family too; his cousin was the father of Virginia Woolf. But Albert was loudly opposed to women's suffrage, which probably didn't go down well with the Bonham Carters and Nightingales!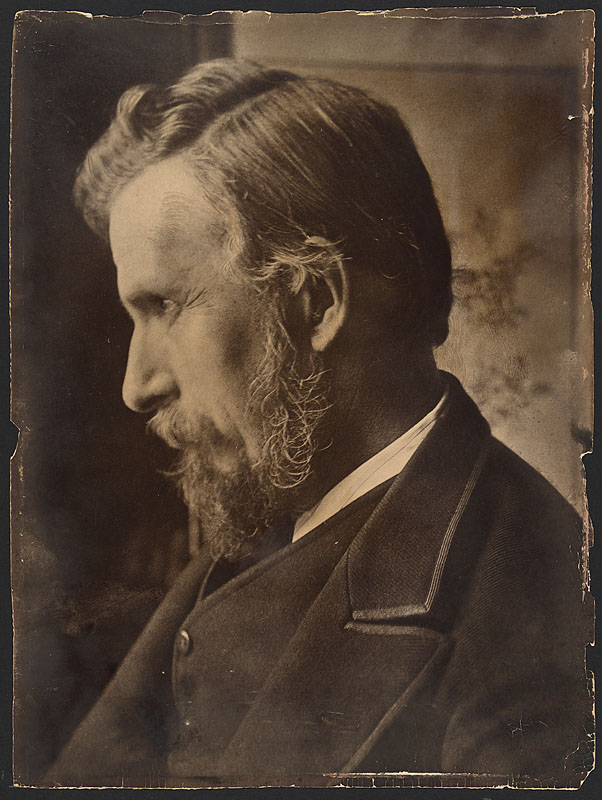 (Sorry – this turned into a long thread! You see what I mean about rabbit holes…😂 But one of the reasons I love old books so much is their owners' histories – I can lose whole days looking into them!)
Originally tweeted by Dr Cora Beth Fraser (@drcorabeth) on April 14, 2021.
Thursday
Today's #OldBookThreadOfTheDay (I'm having far too much fun with these!) takes us down a revolutionary rabbit hole, with this little volume of Virgil. It's not fancy (it never was – several versions were produced, and this was the cheap one!) but it's a little piece of history…
The book's engravings were overseen by Neoclassical artist Jacques-Louis David and produced by his students. The big folio edition had amazing illustrations (https://www.metmuseum.org/art/collection/search/337206), but the cheap versions only featured the little devices. Still, they're superb.
But what interests me most is the date. It's dated 1798 – but it doesn't say that. This is the French Republican Calendar, only used for a few years, so this was published in Paris shortly after the Revolution (although Year 6 refers to the govt, not the Revolution itself).
The Republican govt didn't just change the year, of course; they changed the months too, giving them names in a weird mixture of Latin, Greek and French. This book was presented as a prize in the month of Fructidor, which ran from mid-August to mid-Sept…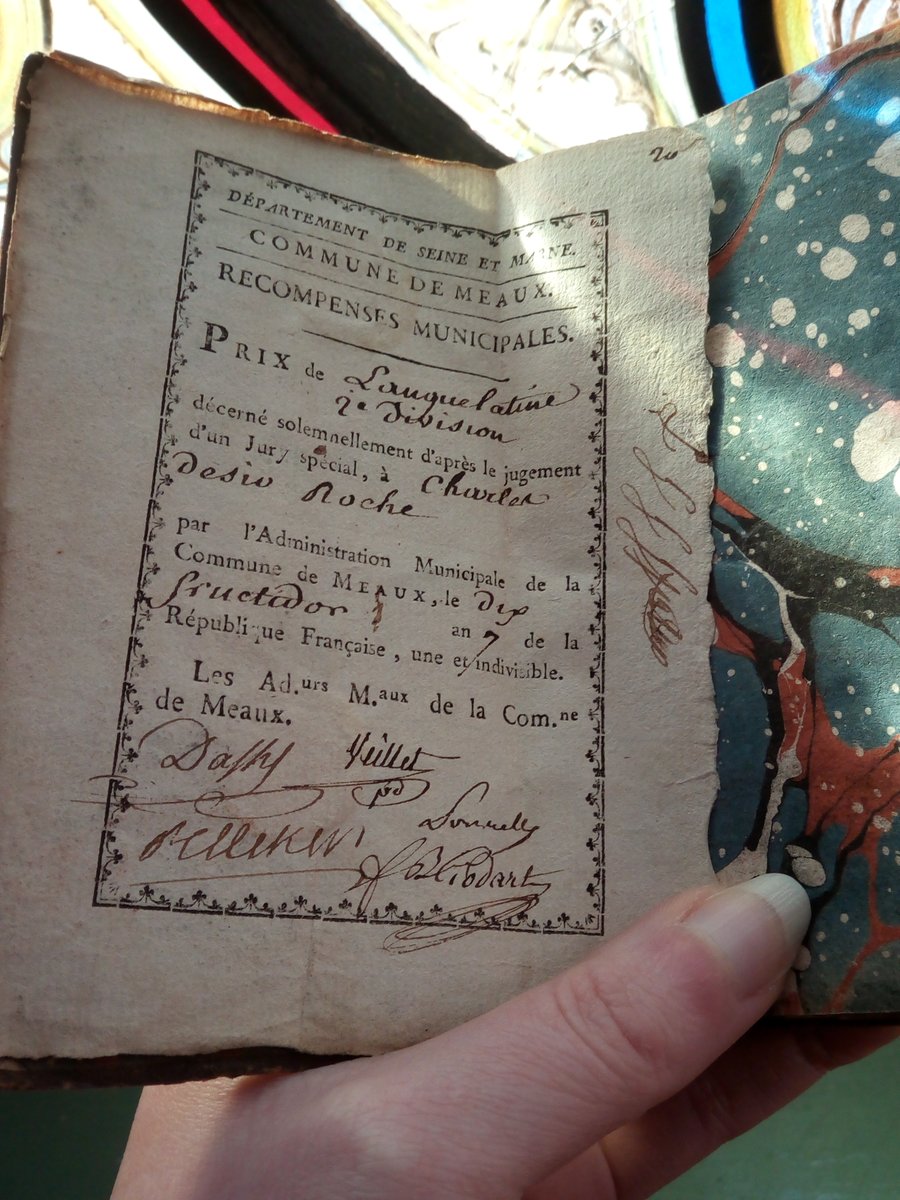 The other summer months were called Messidor and Thermidor, rendered into English as 'Reapidor, Heatidor and Fruitidor' (Carlyle), or more frivolously 'Hoppy, Croppy and Poppy' (Brady). There were 10 hours in a day and 10 days in a week, and all kinds of other fun and games.
So this book was published in Paris in the middle of all kinds of social upheavals, and awarded to someone during Fructidor, only a few months before the coup of Napoleon. But as for the people involved – well, I can't make out any of the names! Any thoughts?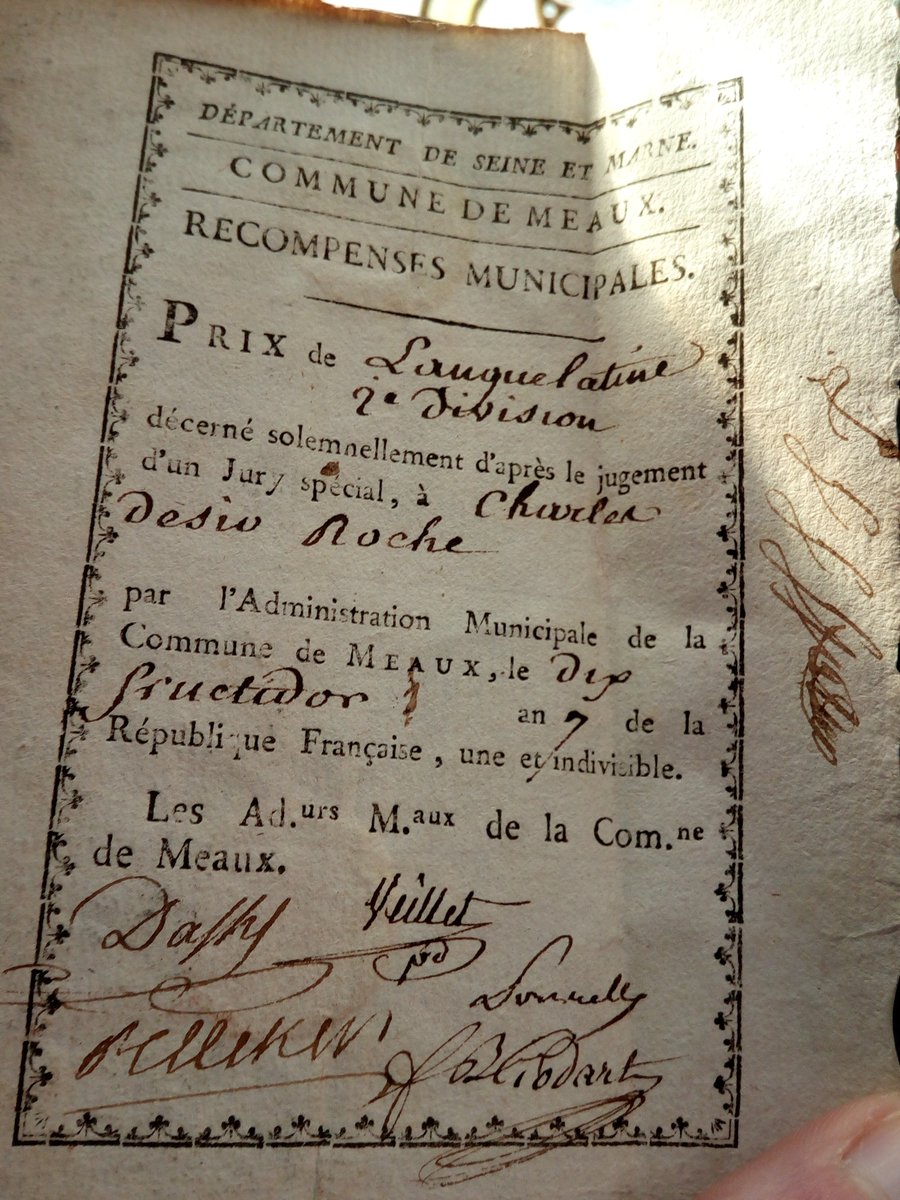 Originally tweeted by Dr Cora Beth Fraser (@drcorabeth) on April 15, 2021.
Friday
One final #OldBookThreadOfTheDay before my holiday ends! This is a copy of Echard's Terence, which I picked up from a book fair a few years ago. It's not valuable: it's been recently rebound (very nicely) and it isn't a first edition. So why do I like it? Well, there's a list…
First, the book itself. Printed in 1705 (revised from the first 1694 edition), it's an English translation of Terence's plays, very much in the Restoration Comedy style, and with a frontispiece to match. There's a Preface which is brilliantly enthusiastic (and competitive)!
Second, the translator. Echard wrote this when he was still a student, along with other humble titles like 'A Most Compleat Compendium of Geography, General and Special; describing all the Empires, Kingdoms, and Dominions in the whole World' (!) before joining the clergy.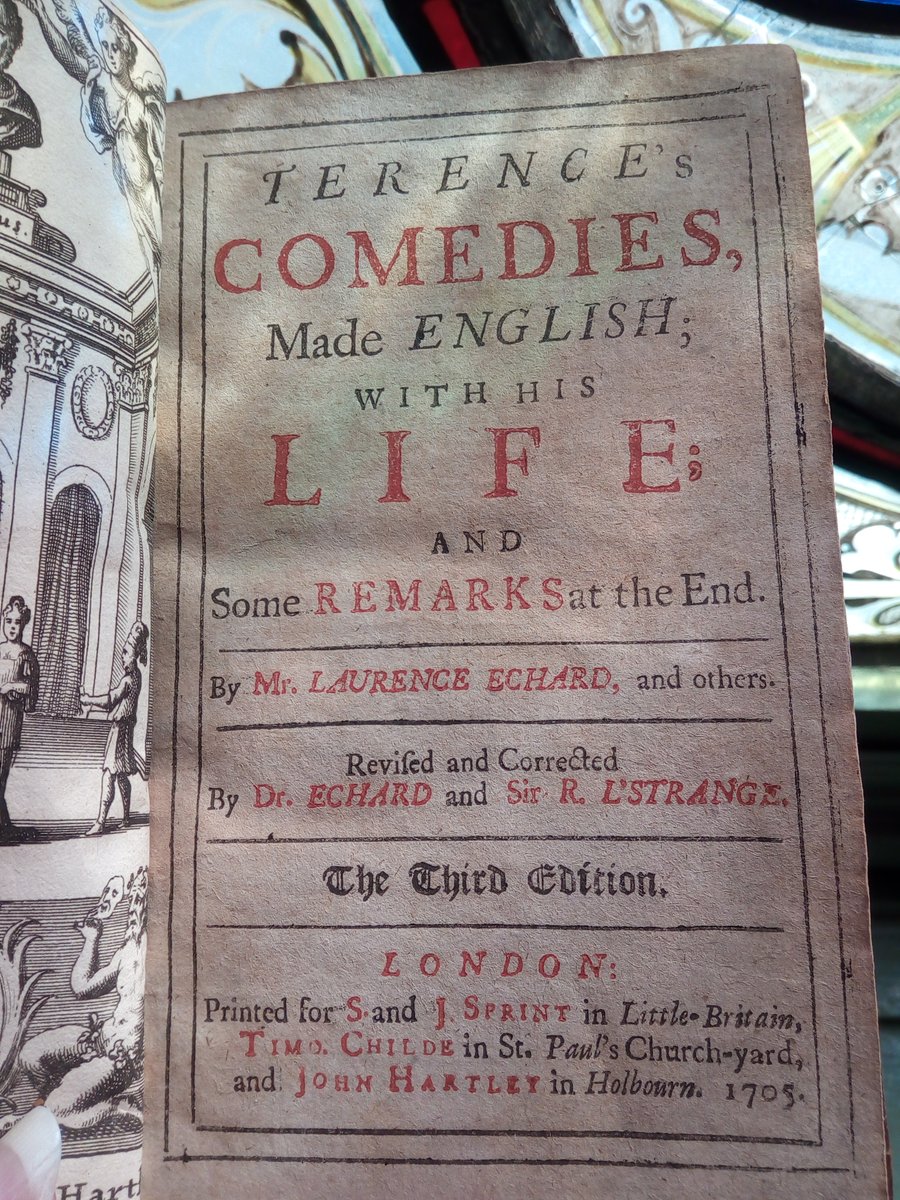 Third, the owner. This book once belonged to Charles Henry Dodwell Moore, born 1872, who became a curate after he left Oxford. The names and date of 1769 suggest that this book was passed down through the family for at least 100 years, and someone wrote a palindrome at the back!
And then there are some weird links which I can't quite explain. Echard eventually became a canon of Lincoln cathedral; the same place where, a hundred years later, Charles' father Henry Dodwell Moore would also be canon. Coincidence, or connection?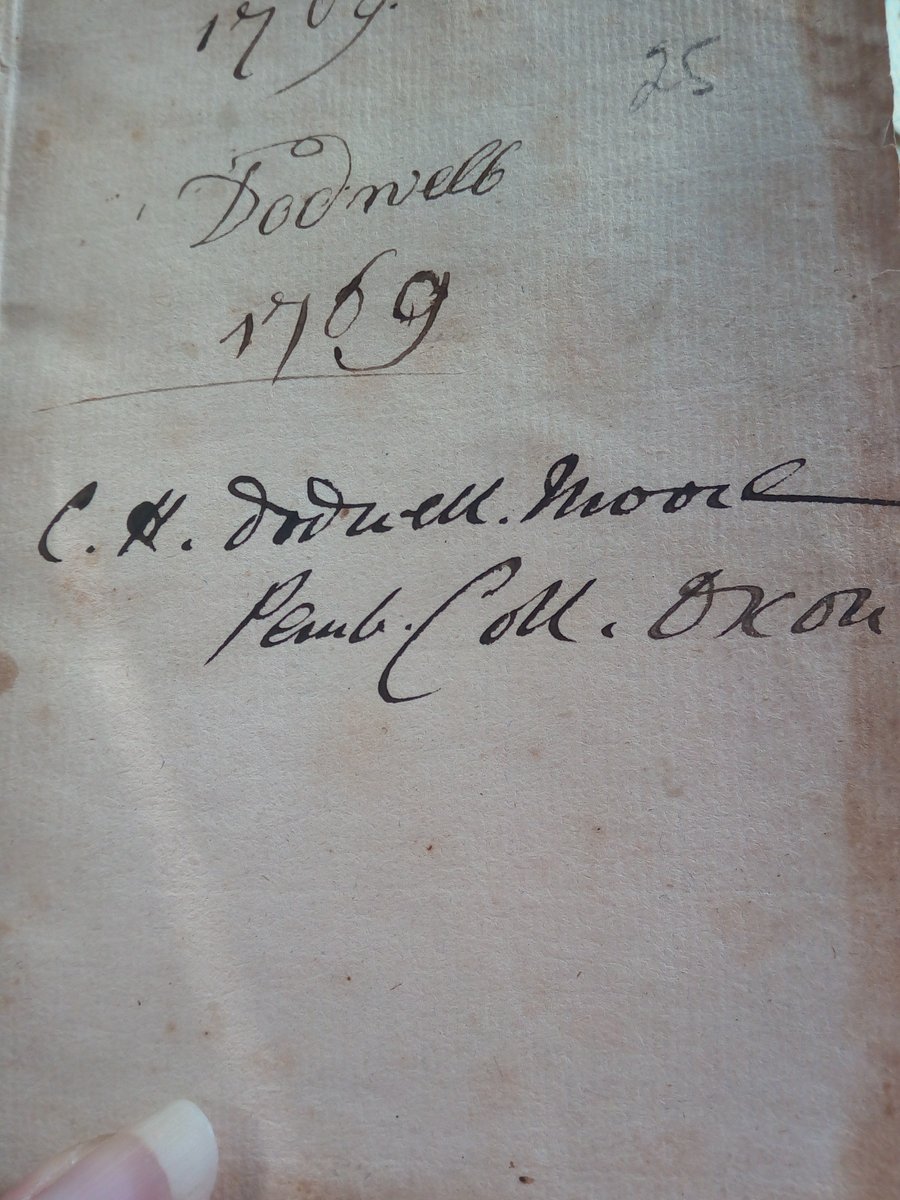 Another Moore comes up in connection with Echard: Bishop John Moore, who ordained Echard. Echard and Moore had both been Cambridge sizars: poor students who got free meals. Moore became world-famous for his amazing library: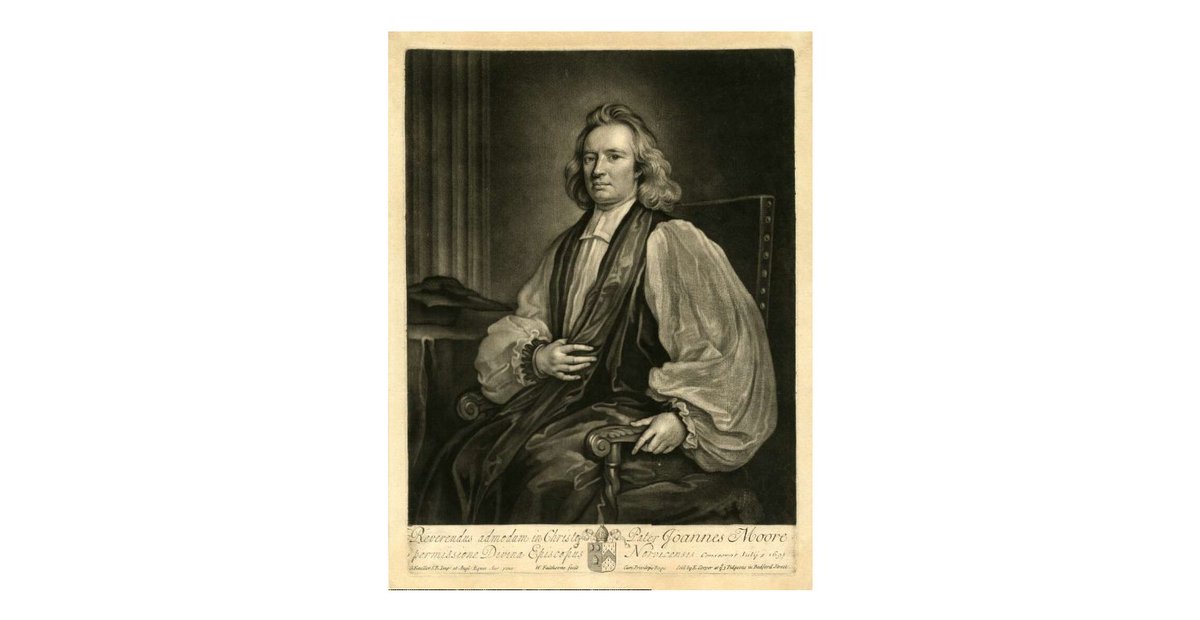 So are there links between Echard the translator, John Moore the bibliophile, and the family of C.H. Dodwell Moore? Maybe. There are certainly some great stories about the Moores and the Dodwells. But I have to go back to work, sadly, so this is a rabbit hole for another day!
Originally tweeted by Dr Cora Beth Fraser (@drcorabeth) on April 16, 2021.
I should perhaps mention that the links in my weekly round-up might be quite thin over the coming weeks, because I'm in for a hectic month or so. But if you're feeling short of things to read, remember that you can always check out the Rogue Classicist's daily Thelxinoe posts on his blog, which cover pretty much everything!
The big news this week has been the discovery of a Roman building in Scarborough – and it's been interesting to see how it's been reported by different news outlets (Brideshead? stately home? gentlemen's club?), which is why I've included lots of links below.
This week from around the Classics Internet
News
High-status villa – The Yorkshire Post
Roman 'stately home' in Scarborough – BBC
'Brideshead' for Roman elite – The Telegraph
Scarborough site first of its kind – The Guardian
New discovery at Scarborough damaged already – The Yorkshire Post
Finds from Salamis – Greek Reporter
Abandoning Berenike – The Daily Mail
Rome to open Area Sacra site – France 24
List of summer schools – Classics For All
Comfort Classics
Amber Taylor: Ovid, Metamorphoses 3
Comment and opinion
A city with no name? – Lugubelinus
Diversifying Classics in Germany – Society for Classical Studies
The complex case of Oedipus – Antigone
Moving beyond the elitist male gaze – The Art Newspaper
Sappho and queer identity – Sportula Europe
Greek art and fashion – The Greek Herald
The music of Sophocles' Ode to Man – Antigone
In search of useful Latin – Antigone
Podcasts, video and other media
Arianism – In Our Time
The Disastrous Decemvirs – The Partial Historians
Hadrian in Athens – Ancient History Fangirl
Catullus 27 – Catullan Conversations
Chesters Roman Fort – The Ancients
Who is Classics for? – Beyond the Lecture
Roman military tombstones – The Ancients